Introduction
From Gail Morrison, M'71, FEL'76
:
It is hard to believe that we are already more than a month into the new academic year and autumn is officially here. Welcome to new Pulse readers, including parents of current students! This issue focuses on several aspects of student life that I am sure will interest you and make you feel like "you are here."
Our Q&A this month features a young alumnus. David Fajgenbaum, M'13, WG'15, is such a recent graduate that he still seems like a student to me. But he is now a Perelman School faculty member who remarkably has also found the time, based on personal experiences, to both co-found and lead a disease-specific global initiative and co-write a well-received book on grief. I am sure you will be impressed with and inspired by his story.
Current student Jason Han, M'17, a member of the John Morgan virtual house, also appears in this issue to share some of his thoughts on his Penn experience and his ambitious plans as the new president of Penn Medical Student Government. In addition, we offer a full description of the now two-year-old virtual house program—as well as a photo gallery of the monthly study break session available to all students and our calendar of upcoming events.
As I mentioned last month, alumni fundraising and participation in our 250th year were phenomenal. I am proud to note that we also saw a significant increase in Medical Alumni Weekend attendance, with nearly 300 more attendees this year over the average, after holding a series of popular regional events throughout the country. We also saw a 30% increase in annual giving donors, with a 104% increase in Young Benjamin Franklin Society donors. Kudos to our increasingly active alumni and the Alumni Development and Alumni Relations Office! In fact, the ADAR office is launching a new annual giving campaign, You Are Here, so that you know that with your support and encouragement, Perelman students are achieving amazing accomplishments. Please look for more information in the future about the You Are Here campaign.
Finally, thank you for submitting your nominations for the 2016 and 2017 Distinguished Graduate Awards, nominations for which are now closed. To see past recipients of the award, please click here.
Please enjoy this issue of Pulse, and the change in seasons! As always, please write to tell us what you would most like to see covered in your alumni online newsletter, to let us know of your current or upcoming publications—which we would be happy to highlight and link to here—or to convey any news that you would like to share with your alumni community (gailm71@exchange.upenn.edu).
P.S. If you haven't yet purchased a copy of To Spread the Light of Knowledge, a limited-edition book filled with nearly 200 pages of history celebrating the 250th birthday of the nation's first medical school, I recommend taking a look. This wonderful book, which includes photos dating back to the founding of the School, really elicits a deep pride and appreciation for the pioneering role our School has played in American medicine. To order a copy, click here and make your selection.

A Portrait in Courage and Passion:
A Q&A with David Fajgenbaum, M'13, WG'15
David Fajgenbaum, MD, MBA, MSc, was recently named a member of Forbes magazine's 2015 30 Under 30 list for Healthcare and garnered one of the top honors in the rare disease field, the Global Genes 2015 RARE Tribute to Champions of Hope Award. Dr. Fajgenbaum's prolific work in research and patient advocacy has been fueled by his struggle with an uncommon disease and personal tragedy.
In 2010 Dr. Fajgenbaum, now a Research Assistant Professor of Medicine in the Division of Hematology/Oncology at the Perelman School of Medicine, was diagnosed with idiopathic multicentric Castleman disease (iMCD), an exceedingly rare, cancer-like disorder that he says lies at the "nexus of cancer and autoimmune conditions." He has had last rites read, and endured four life-threatening relapses requiring combination chemotherapy every 15 to 17 months for the last five years. His fight with Castleman disease, which you can read more about here, inspired him to co-found and serve as Executive Director for the Castleman Disease Collaborative Network (CDCN) to speed research and treatment discovery. Dr. Fajgenbaum has also recently accepted a position as Associate Director of Patient Impact for the Penn Orphan Disease Center.
Dr. Fajgenbaum—who is in remission—co-founded National Students of AMF, a support network for grieving college students in 2006. He started the organization in memory of his mother, Anne Marie Fajgenbaum (the AMF in the organization's name), who died from brain cancer while he was in college. He also recently co-authored We Get It: Voices of Grieving College Students & Young Adults, which is a top new release on Amazon. Pulse recently spoke with Dr. Fajgenbaum on a range of issues related to the Perelman School and his medical career, including the condition that drives his research and philanthropic work.
Q: What do you think the School should be addressing?
A: Speaking as both a proud former medical student and new Research Assistant Professor of Medicine, I think that the School is doing an incredible job training the next generation of top clinicians and leaders in medicine. I think that medical students could have greater exposure to the transformative work that is being done across campus—perhaps through infusing Penn Medicine research into the formal curriculum.
My professional experience has also shown me that exposure during medical school to translational research and "omics" data is becoming increasingly important. With electronic medical records, the advent of e-consents, and the trend towards personalized medicine, physicians who were previously uninterested in research soon will be on the front lines of clinical and translational research.
Q: With Penn's emphasis on multiple degrees, how do you think earning your Wharton MBA has impacted your career?
A: I think Penn's emphasis on multiple degrees is fantastic, and Penn has so many top-tier programs on campus that can add tremendous value to medical education. In addition to my MD and MBA, I have an MSc in public health from Oxford, and I call upon experiences from all three degree programs every day.
I chose to do an MBA along with my MD as I learned that some of the greatest hurdles in the way of progress for biomedical research were not medical problems or scientific limitations, but issues of limited collaboration, ineffective research strategies, inefficient use of funding and tissue samples, and barriers between institutions—in other words, business and management problems. At Wharton, I gained the skills that I needed to help overcome some of these obstacles in my own work.
I think that Penn's elite programs put us in a unique position to create innovative solutions to promote collaboration, strategic research investments, and cross-institutional partnerships. And I hope to help facilitate interdisciplinary collaborations to solve important problems through my new role with the Penn Orphan Disease Center.
Q: Is the practice of medicine what you expected it to be?
A: Well, it is important to note that I do not see patients clinically. I primarily conduct research and build cross-institutional collaborations, and I teach a limited amount as Co-Course Director of "Precision Medicine" for fourth-year students and as lecturer for "Mechanisms of Disease and Therapeutic Interventions" for first-year students.
Currently, doctors are often forced to make decisions about what regimen to use for a patient, particularly those with rare diseases, with limited data—and that data is rarely captured to help the next doctor. We must change that. Data related to each patient exposure to a treatment needs to be collected and aggregated. This is particularly important for the 95% of rare diseases that do not have an FDA-approved therapy.
Thankfully, there is still the level of focus on saving patients' lives that I had expected and hoped for. I have been surprised by how many non-medical roadblocks—politics, competition—can get in the way of progress. We have to keep coming back to making the patient our focus. And more rigorous data collection and sharing would be helpful in personalizing patient care.
Penn Medicine is actually leading the way in terms of pairing "omics" data with electronic medical records through the Penn Data Store and PennOmics. This will aid in identifying associations between data and meaningful outcomes such as response to therapy or survival. For rare disorders, that data needs to be combined across institutions.
Q: Can you briefly characterize the current state of Castleman disease research and the work of the Castleman Disease Collaborative Network?
A: Castleman disease (CD) describes a group of three disorders that share characteristic lymph node features and a wide range of clinical features, from flu-like symptoms to multiple organ system failure. I'm most interested in idiopathic MCD (iMCD), which is the most deadly and poorly understood sub-type, and the one that I've been battling as a patient and researcher.
Contrary to the established medical community understanding of iMCD, Drs. Chris Nabel, Frits van Rhee, and I found—and published in the journal Blood—that the enlarged lymph nodes are not cytokine-secreting tumors that drive systemic inflammation, but they are actually enlarged as a result of the excessive cytokine release. With the correct model, we are now searching for the cause(s) of the cytokine release, the cytokine secreting cell type, and the responsible signaling pathways.
I co-founded the Castleman Disease Collaborative Network (www.CDCN.org) in 2012 to overcome hurdles in the way of elucidating the cellular events that lead to CD and accelerating drug discovery. We're taking a unique approach from the traditional model of first raising funds and then inviting researchers to apply to use the funding how they see fit. We built a global research community—now more than 300 physicians and researchers from 28 countries—and crowdsourced among them to prioritize the key research studies into a formal international research agenda. Now we're recruiting top researchers from around the world to conduct our top-priority studies. I am also fighting to make sure that clinical and treatment data will be captured on every patient with Castleman disease in our forthcoming ACCELERATE Study.
The CDCN has engaged more than 3,000 patients and their loved ones—through an online portal and patient summits—to support one another, provide samples, and contribute funding for research. I think this approach can bring significant results much more quickly. I think that Pulse readers would like to know that Dr. Arthur Rubenstein, former dean of the Perelman School, has contributed tremendously as Senior Medical Advisor to the CDCN.
Q: What do you see or would you like to see as future directions in oncology research and care?
A: I see continued advances in immuno-oncology as the future direction for oncology research. As for directions in oncology care or methods that I think will lead to advances in care in other fields, we must continue to improve data collection on every patient so that we can build upon experiences, especially for rare cancers. I think this could be achieved by:
1 ) more collaboration among researchers within fields and across disease areas,
2) more consensus-building among research communities to determine strategic priorities before funding decisions are made,
3) more sharing of tissue samples and clinical data across institutions, particularly for rare diseases, and
4) greater capture of all clinical experiences and treatment data, so that those data can inform the next physician making a similar clinical decision.
Many sides of Dr. Fajgenbaum
Han at the Helm: Meet the New MSG President
Jason Han, M'17, who is on hand to lead the Penn Medical Student Government (MSG) as president, knows that when it comes to Penn, he can count on his instincts and passion for the School.
Jason interviewed at several institutions after graduating from Columbia University. One of his earliest sessions took place at the Perelman School, and the positive, even "mood-elevating," impression left by Penn stayed with him, making his intuition-based decision easy.
Jason confirms that his lofty expectations have been exceeded. "The positive, supportive, and multidisciplinary culture here, as well as its clinical prestige, and dynamic student body are truly inspiring," he said.
The MSG was the right place for Jason to channel his strong, heartfelt emotions about the School. "The feelings that I've had about my medical school experience, since the interview really, made me want to contribute and be a part of it—to help protect and improve it. That's why I first joined MSG."
The mentorship provided at Penn was also highly touted on Jason's interview day here, and it has only served to reinforce his gratitude. "The School genuinely wants us to succeed and excel as humane physicians, and it very much shows in our treatment and guidance. The warmth and sage advice from my academic advisor, Dr. Neha Vapiwala, has been fantastic, and I've received wonderful mentorship from Dr. Pavan Atluri," Jason said. The third-year student, who began his rotation in Medicine in July, has been contributing to cardiac surgery research in Dr. Atluri's lab, where he has had the "most challenging yet rewarding research experience of my career."
For now, Jason is also embracing the challenge of student leadership. His goal as president—with fellow MSG board members JC Lopez, M'17, Vice President; Sara Ginzberg M'18, Vice President of Communications; and Michael Furdyna, M'18, Treasurer—is to facilitate and bring to fruition the passions, initiatives, and ambitions of his fellow students.
They are working toward the following goals this year:
1 ) redefining projects and committees based on student needs,
2) specifically establishing a committee within MSG that listens to student concerns and liaises directly to the administration, and
3) making all student projects and the rationale behind them transparent to the general student body.
"I think we've taken great strides toward achieving our first goal, particularly in establishing a student life committee," Jason said. "We have also formulated questions for leadership on issues such as the timing of clinical exposure in our curriculum and the relevance of the standardized patient program. Along with my fellow MSG board members, I am really excited to tackle the most pressing issues on the minds of the student body," he concluded.

Virtual Houses Provide a Home:
Get to Know these New Communities of Students
Established in 2013 to foster interactions, peer-mentoring, and friendships between and across class years, the Perelman School of Medicine Houses are beginning to forge an identity.
Named for four Penn Medicine legends—John Morgan, Helen O. Dickens, Jonathan E. Rhoads, and Francis C. Wood—the individual houses, each assigned an Advisory Dean and two Master Clinicians, have become tight-knit groups of students that organize around community service, social and educational events. For dual-degree students who may gradually lose an affinity with their entering class as they remain on campus longer to complete their second degree, the virtual houses can fill a notable void.
Iris Reyes, MD, Advisory Dean for the Office of Student Affairs (Dickens House), appreciates the virtual mentorship model and her particular assignment. "It is an honor be a member of the Helen O. Dickens House, which was named after an African-American woman who not only overcame extraordinary challenges to become a physician but spent the entirety of her career focused on providing care to the poor and underserved in our surrounding community. She also held a special place in her heart for our medical students. It is only proper that the Dickens House should serve as a virtual home for our students to come together as a family to support and nurture each other as they proceed on their journey to careers in Medicine," said Dr. Reyes.
Each house is composed of students from all classes who are divided and matched with a house according to Advisory Dean assignments. Combined degree students are also assigned to one of the four houses. The house program helps students connect with upperclassmen about classes and clinics lying ahead, or to discuss mutual research or community service interests. The program has potential for growth, too, according to Mary Cay Harris, MD, Advisory Dean for the Office of Student Affairs (Wood House). "We hope to add another dimension in the near future, encouraging alumni to become involved with our activities, and even join our houses as auxiliary members," she said.
House activities include small group dinners at orientation, study skills workshops for first-year students, one-on-one tours of the hospitals, 5K races for charity, and an annual Field Day event in the spring to compete for the House Cup (won both years by the Morgan House).
Please enjoy—and even live vicariously through—the photo gallery featuring PSOM House events.

Scenes from the September Student Study Break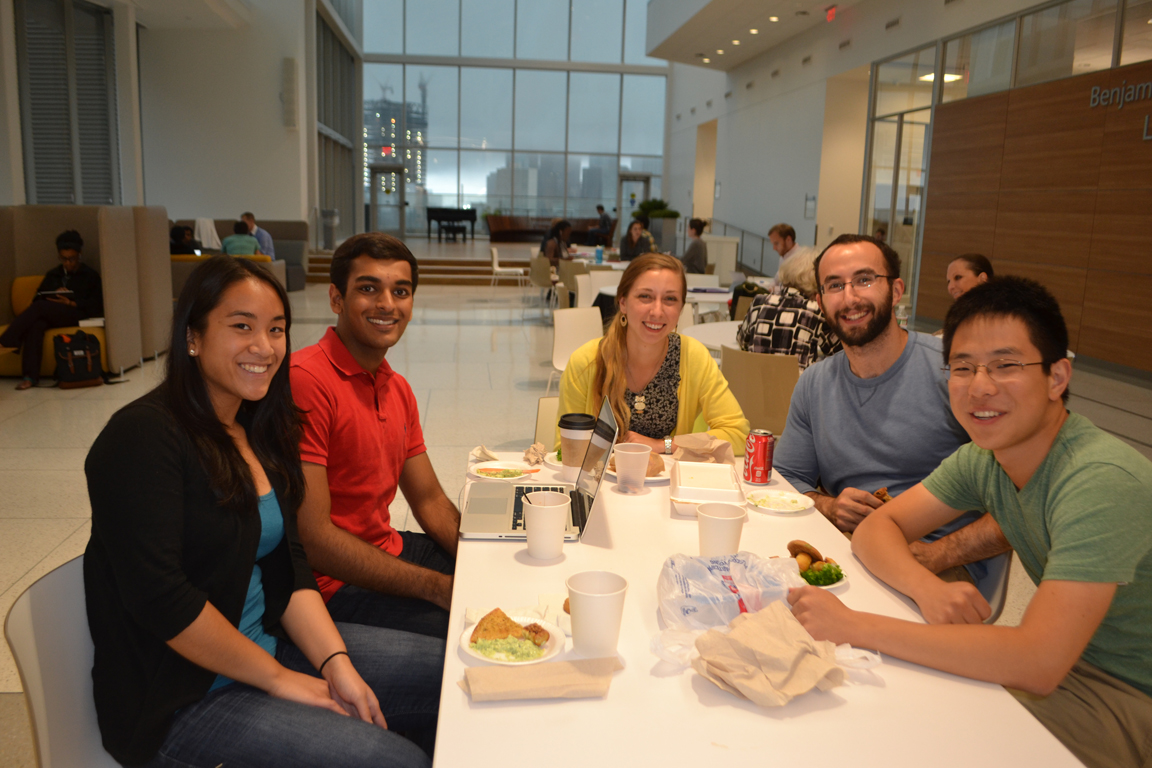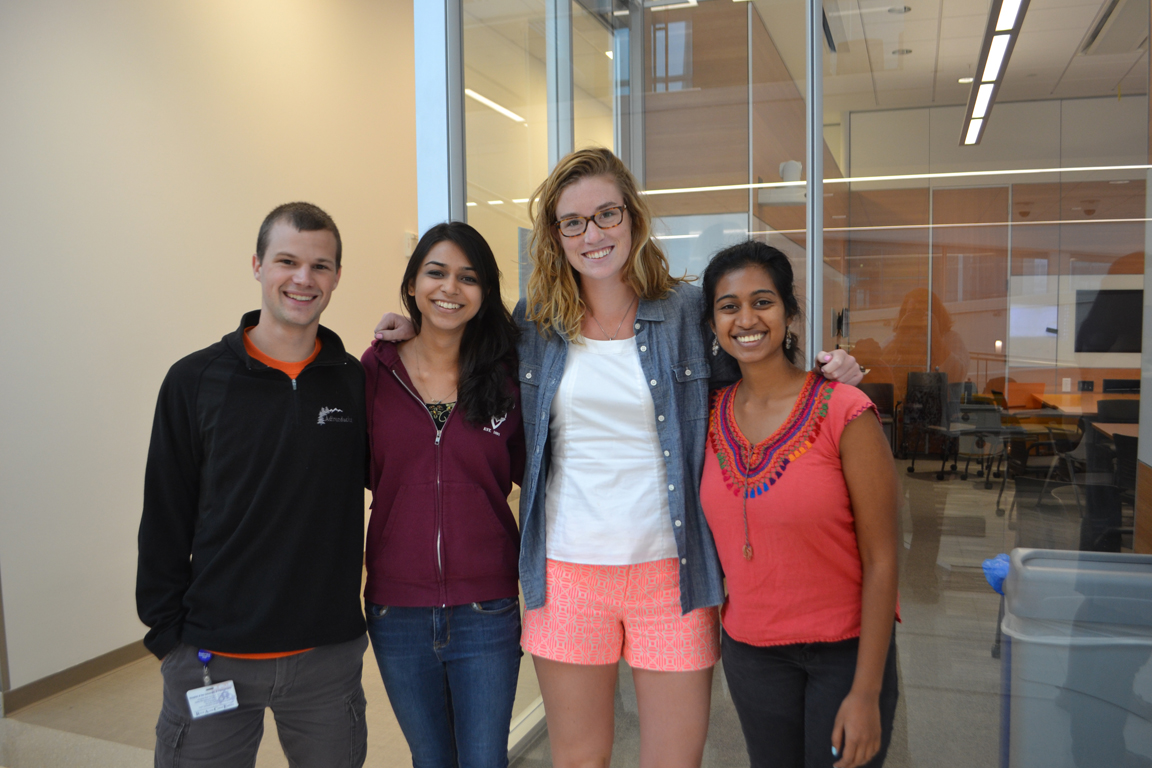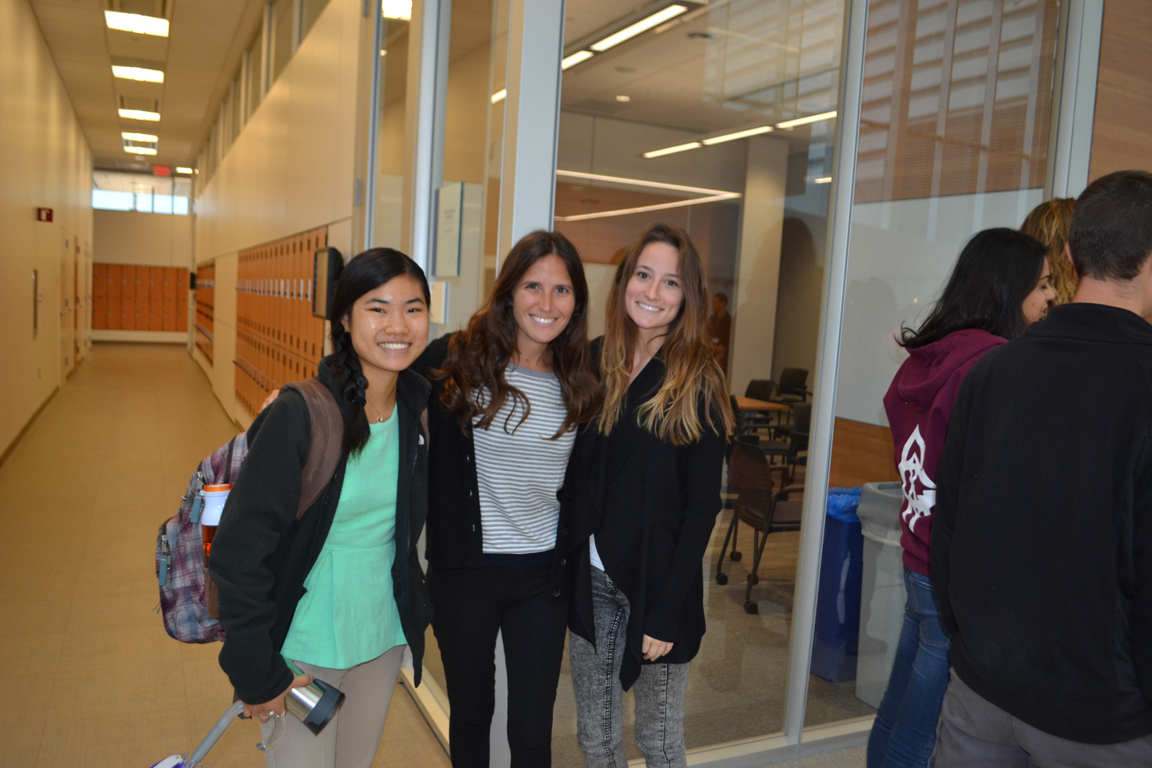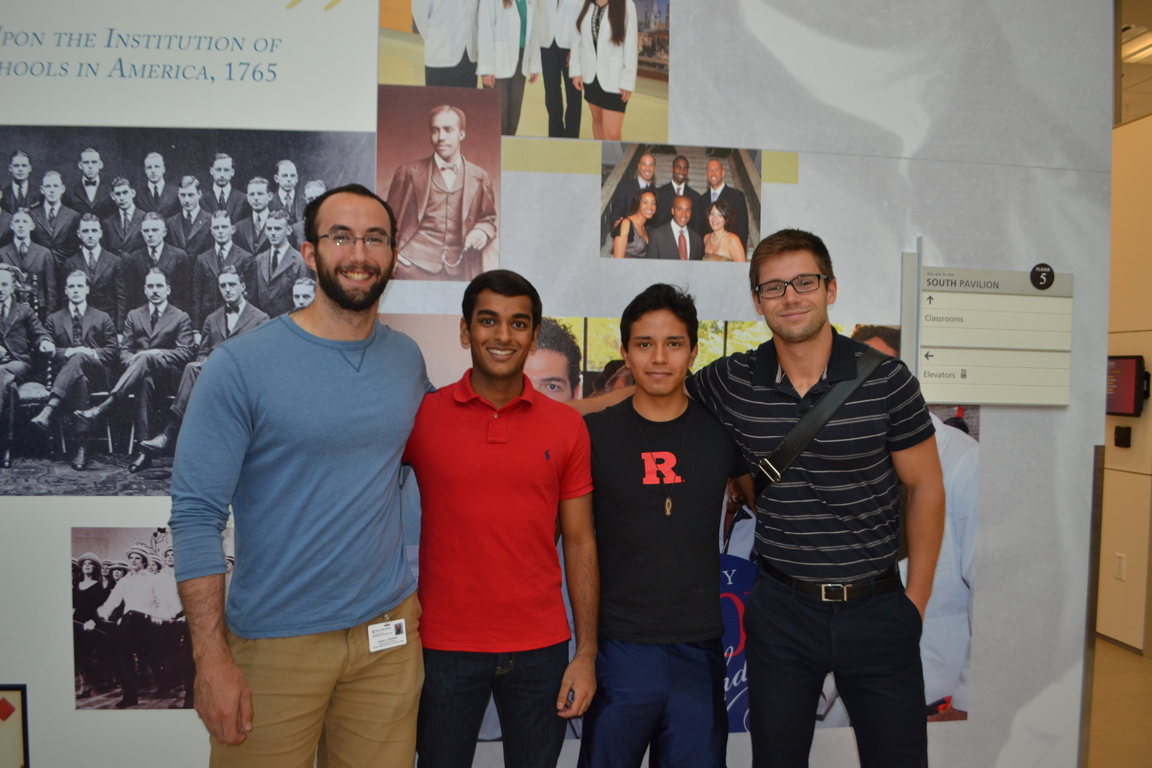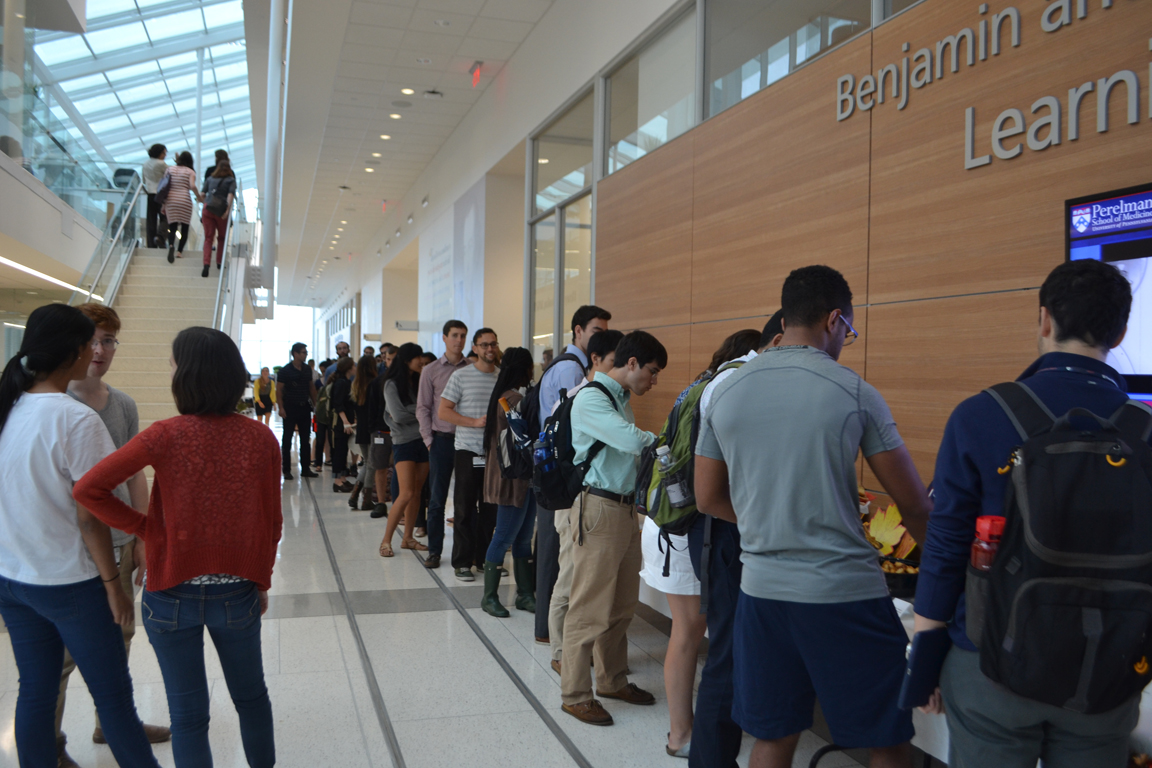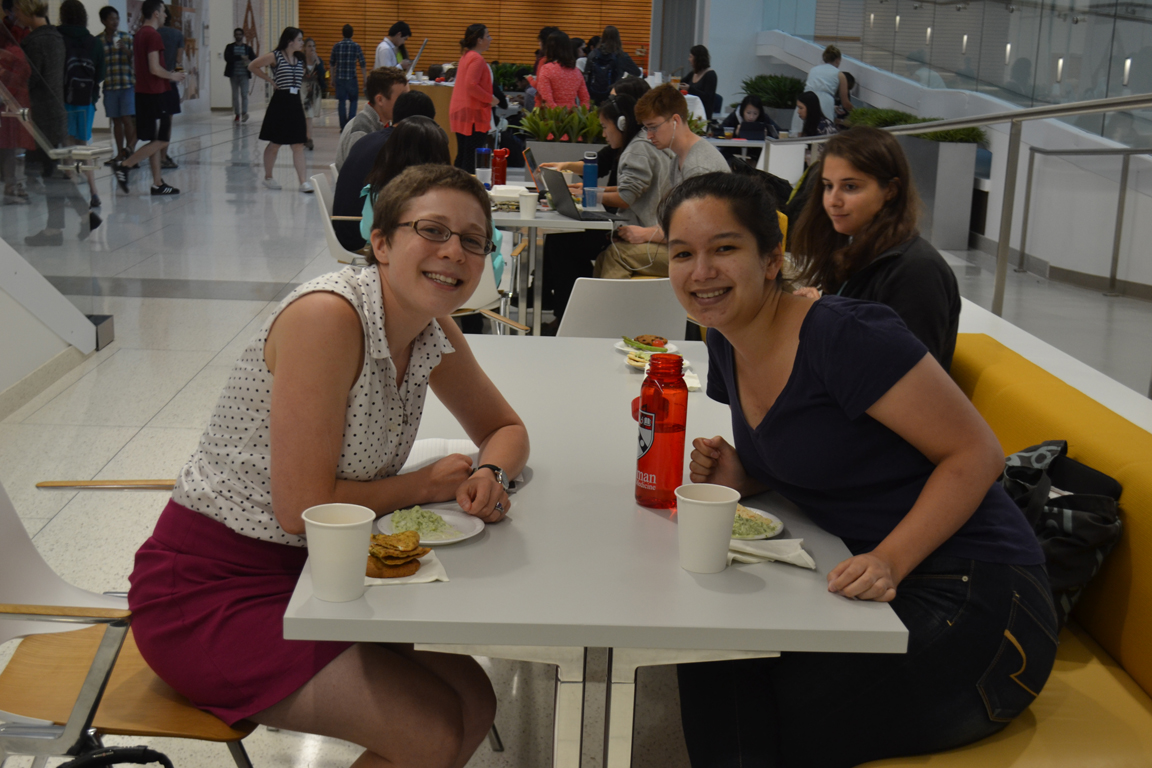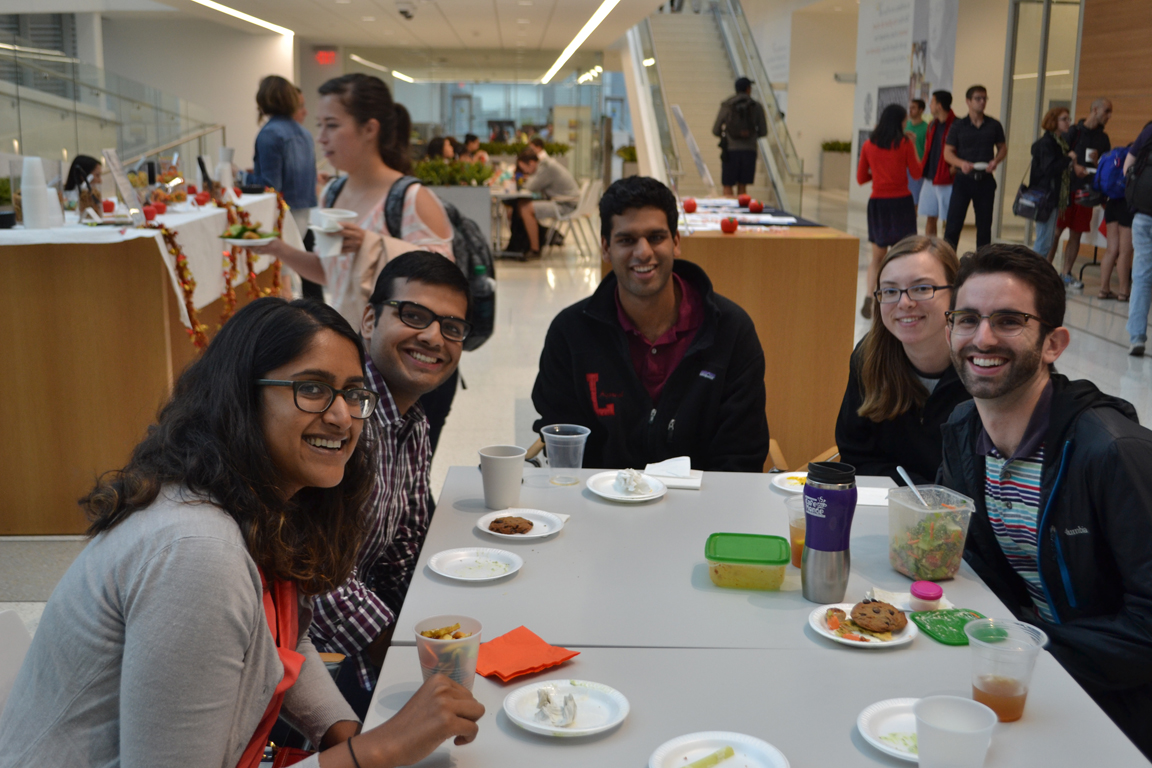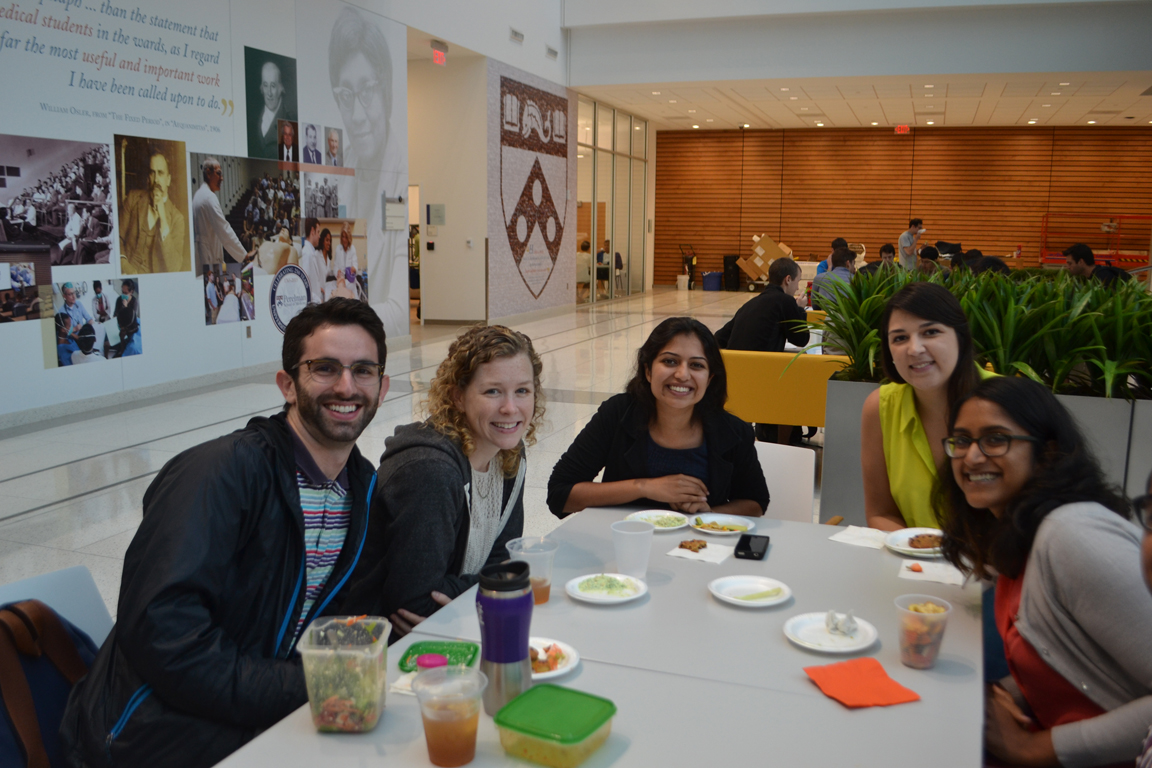 With a storm poised to unleash on Philadelphia on the 17th of September, approximately 160 students from across Perelman School classes happily showed up in the Henry A. Jordan, M'62 Medical Education Center for the monthly student study break.
Events Calendar
This fall features several noteworthy events for alumni and students. Please join us!
October 6 Student Study Break, Halloween
12:00 Noon – 1:00 PM, Atrium JMEC
October 9 – 10 Biomedical Graduate Studies (BGS) 30th Anniversary Event
Smilow Center for Translational Research/JMEC
Featured keynote speakers:
Anthony Fauci, MD, Director of NIH-NIAID
Eve Marder, PhD, Professor of Biology, Brandeis University
Aaron Gitler, PhD, Associate Professor of Genetics, Stanford University
Sarah Tishkoff, PhD, Professor of Biology and Genetics, Perelman School of Medicine
Carl June, MD, Professor of Pathology and Laboratory Medicine, Perelman School of Medicine
October 20 Reception celebrating the establishment of the Peter C. Nowell, MD Professorship
and the appointment of Kojo Elenitoba-Johnson, MD, as the inaugural chair-holder
6:00 PM – 7:30 PM, JMEC
Thorne Sparkman, Jr., MD Lectureship in Spirituality, Religion, and Medicine
"Spirituality and Health: The Basis of the Healing Relationship in Medicine"
Christina M. Puchalski, MD, MS, The George Washington School of Medicine and Health Sciences
12:15 PM - 1:30 PM, Smilow Center for Translational Research - Rubenstein Auditorium
October 23 18th Annual FOCUS Fall Conference for Penn Women
Successful Strategies for Women in Academic Medicine
8:00 AM – 3:30 PM, Hall of Flags – Houston Hall
October 26 Blutt Lecture in Entrepreneurism and Medicine
4:30 PM – 6:00 PM, Law Auditorium and Atrium, JMEC
Keynote speaker:
David Blumenthal, MD, MPP, President of the Commonwealth Fund
November 7 Association of American Medical Colleges (AAMC) Alumni Reception
6:00 PM – 8:00 PM, Hilton Hotel – Baltimore
November 9 The Institute for Diabetes, Obesity, and Metabolism (IDOM) 10th Anniversary Celebration
5:30 PM – 7:00 PM, Smilow Center for Translational Research – Commons
December 8 Elizabeth Kirk Rose, M'26, Women in Medicine Celebration
12:00 Noon – 1:30 PM, Law Family Pavilion JMEC
December 10 Student Study Break/Holiday Party
4:30 PM – 6:00 PM, Atrium JMEC